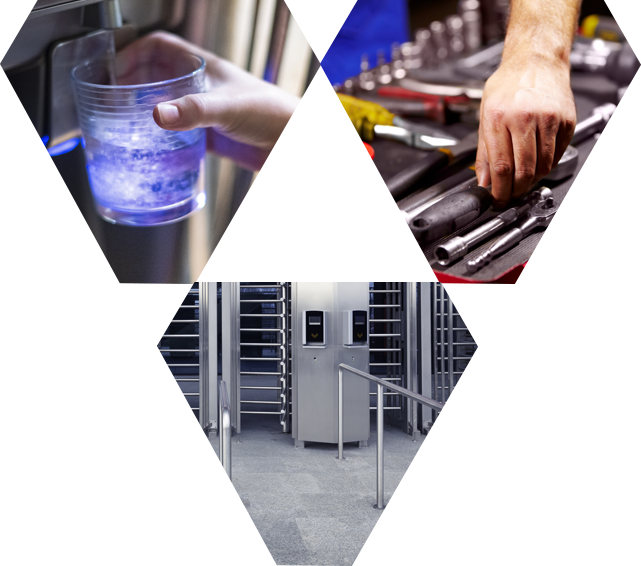 Complete protection for challenging environments
We are OvoGard™: creators of shields that protect & preserve essential installations; including water coolers, bins, fire extinguishers, boiler systems, radiators and more...
Our virtually indestructible shields act as protective housing for installations in secure and often challenging environments. We understand that user safety is of paramount importance in secure settings: that's why we've engineered an innovative solution that gives end users independence whilst prioritising their health and welfare.
INDESTRUCTIBLE PROTECTION, NO MATTER THE CHALLENGE
SecuraFlo™: Protective Shielding for Water Dispenser Equipment
Water coolers, hot water systems and other hydration solutions can represent significant investments; with repair & maintenance work often coming at a heavy cost. SecuraFlo™ protects your investment the smart way, providing a vital layer of defence that prevents climbing, stashing and vandalism.

SecuraFire™: Protective Shielding for Fire Hydrants or Emergency Equipment
This multi-purpose secure storage box is designed to house fire extinguishers and other types of emergency equipment that are essential in schools and healthcare environments. The SecuraFire™ shroud protects all contents and prevents any tampering, making it ideal for schools, colleges, mental healthcare institutions, acute healthcare centres and law enforcement.

SecuraBin™: Protective Shielding for Bins & Waste Management
Waste management tampering in healthcare, law enforcement or public environments poses a real safety threat. Left unguarded, bins can be used as stashing spots or pose a danger to people accessing discarded contents. SecuraBin™ securely houses a 50 litre bin, providing protection against associated risks.

SecuraBoil™: Protective Shielding for Boilers & Heating Systems
An essential in any prison, custodial or secure healthcare environment, the SecuraBoil™ Protective Shield is designed to provide a layer of indestructible protection for wall-mounted boilers. The shield's powerful exterior prevents boiler systems from unauthorised access, tampering and vandalism whilst protecting their users from accident or injury. Where boilers need protection, choose SecuraBoil™.

Our Brands
Whether you need protection for water coolers, bins, fire extinguishers, boilers or radiators, OvoGard™ provides a solution that is permanent and cost effective. Introducing SecuraBin™, SecuraBoil™, SecuraFire™ and SecuraFlo™: the protective shields that eliminate vandalism, tampering and theft.