In the UK and beyond, mental health services operate within some of society's most demanding environments. With these everyday challenges in mind, OvoGard is facilitating safer experiences for patients, service users and healthcare professionals alike by protecting essential equipment and infrastructure. In our latest blog, we explore how our protective shields can create safer environments for all stakeholders in this critically important sector.
Years of experience working with mental health providers has informed OvoGard of some of the challenges and risks they face. Whilst some patients may present a risk to themselves or others, healthcare workers are similarly at risk to faulty, outdated infrastructure, ranging from jagged edges and loose wires to electrical fire hazards. Examples of essential infrastructure in mental healthcare environments include, but are not limited to:
Water coolers/water dispensers
Hot water taps
Digital screens and televisions
Medical equipment storage
Dispensary equipment requiring manual operation
Whilst these examples may appear to be fairly innocuous, the potential risks in using these pieces of equipment are real. Indeed, statistics from the HSE suggest that around 6% of the total number of fatal injury accidents reported in Great Britain over a seven year period resulted from contact with electricity, whilst around 10% of all fatal injuries were electricity related. Meanwhile, defects such as faulty engineering and jagged edges present an ongoing and significant risk, leaving users open to injury and healthcare providers liable to prosecution.
The impacts of poorly protected infrastructure and equipment don't end there. Beyond risks to health & safety, mental healthcare organisations are at constant risk of having these resources vandalised, tampered with and even stolen. Numerous reports suggest that the NHS alone loses an estimated £13 million a year due to theft, with these incidents often targeting communal equipment like sanitiser dispensers and water coolers as well as medical supplies including anaesthetics and other drugs.
OvoGard: Improving Infrastructural Safety in Mental Health Services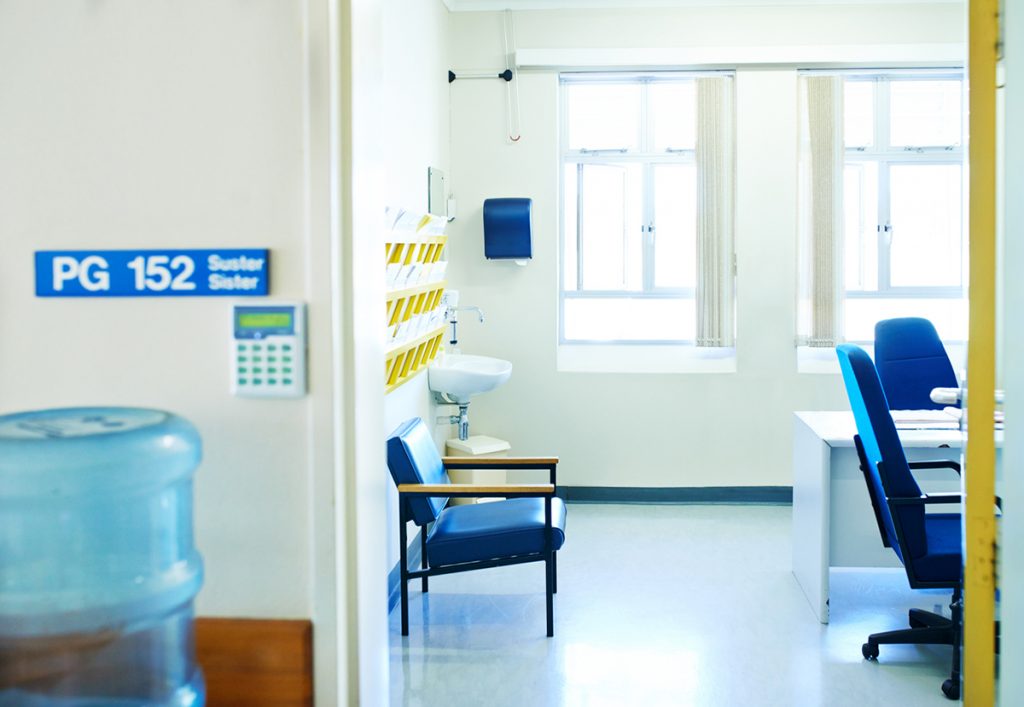 Here at OvoGard, we understand the challenges faced in mental healthcare provision; ranging from equipment-related accidents and injuries right through to tampering, theft, vandalism and even contraband stashing. In order to facilitate a safer healthcare landscape, we've pioneered an innovative system as a solution to these problems. Introducing the OvoGard shield system: a virtually indestructible shroud that can be designed to your environment's operational requirements.
Here's just a few features which highlight the benefits of our solutions in mental healthcare settings:
Guaranteed access
Healthcare providers face a moral and legal obligation to provide free and safe access to a number of resources, including clean drinking water. Where access to water is concerned, the SecuraFlo™ shield by OvoGard ensures guaranteed access to this resource in a way that is safe and eliminates the risk of accident or injury.
Authorised access
Whether regarding water dispensers, digital screens or any other elements of infrastructure, healthcare providers must have authorised access to refill supplies or to conduct basic maintenance. OvoGard's shield systems allow access only to those who are fully authorised. This feature is supported by a locking system which can only be disengaged using a unique allen key.
Damage prevention
Screens, dispensers and sanitary equipment are at constant risk of damage, either as a result of accidents, vandalism or heavy use. OvoGard can protect these resources using a virtually indestructible shield which prevents them from being moved, struck or tampered with. This even extends to protection against damage from sharp objects, with our shrouds providing unique anti-ligature features.
Theft prevention
Essential infrastructure in healthcare is a frequent target for theft, both on an opportunistic and organised level. Anchored to the ground and built for authorized access only, our protective shrouds eliminate the risk of equipment being lost to incidences of theft.
Anti-stashing
Many environments in mental healthcare must take measures to prevent the stashing of unwanted and unsafe items, including non-prescribed drugs and other contraband. Our shrouds are built to provide no opportunities for stashing, facilitating a safer environment for all stakeholders.
Anti-microbial protection
Infection control is a top priority across the healthcare landscape, and commonly-touched areas and frequently used equipment are cited as likely grounds for contamination. Fortunately, OvoGard offers a unique anti-microbial layer, significantly enhancing hygienic security and complementing existing cleaning protocols in healthcare settings.
Essential infrastructure requires appropriate protection. When healthcare providers work with OvoGard, they can ensure that their equipment is protected and that staff, patients and service users alike can access that equipment sensibly and safely.
A Message to Facilities Experts & Decision Makers in Mental Healthcare
Are you in a decision-making position within mental health services? Do you have responsibility for facilities management, procurement or health & safety standards? We want to hear from you. To discuss how OvoGard can protect your equipment, your patients and your staff, contact us today for a free consultation.