2021 represented one of the most challenging years in the history of UK healthcare. Whilst healthcare providers achieved the impossible with a record-breaking COVID-19 vaccination programme, many environments faced continued incidents of theft, vandalism and safety concerns. As we enter a new year, OvoGard is working with the healthcare sector to create a safer landscape for everyone.
Here at OvoGard, we applaud the work of our nurses, doctors and care staff for their work in one of the most challenging periods in recent years. However, we also share a concern for many of the issues they faced throughout the year; including numerous incidents of vandalism and an unprecedented rise in incidents of equipment theft.
The facts speak for themselves. Healthcare has seen a rise in theft, with 11 percent of 2,239 cargo thefts between March and October 2021 involving masks, aprons and other essential medical supplies. Meanwhile, the supply of hand sanitiser equipment remained under constant threat due to incidents of theft and vandalism throughout the country.
OvoGard: Facilitating a Safe, Secure Healthcare Sector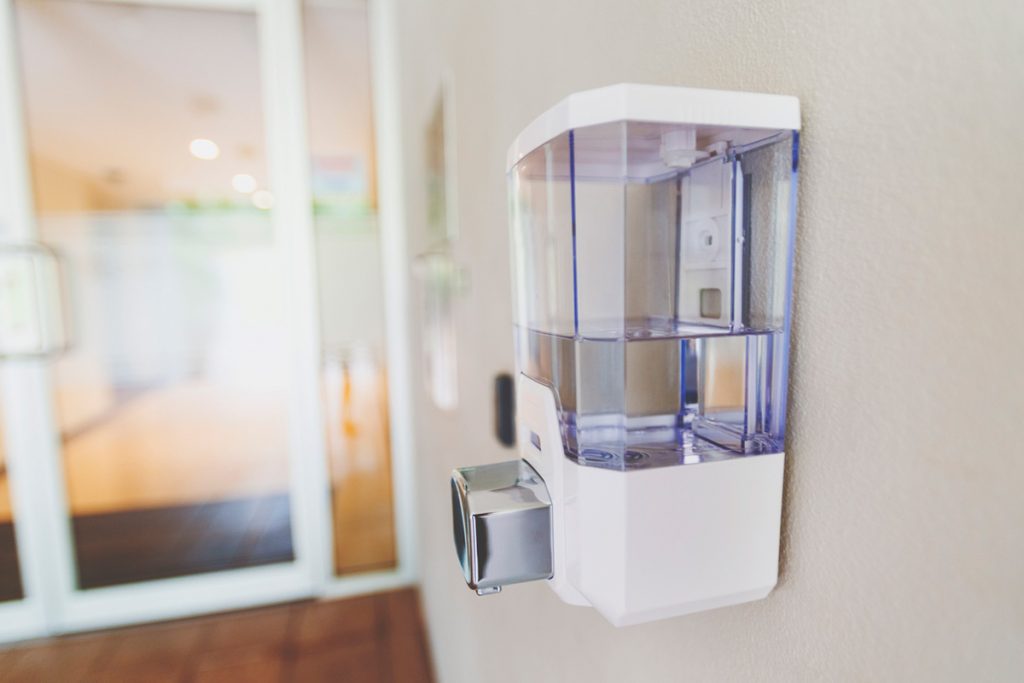 OvoGard understands how these challenges can impact on the delivery of high quality healthcare. With these challenges in mind, we've developed a range of virtually indestructible shields which promote freedom, dignity and independence whilst eliminating the risks of vandalism, theft and accidental injury.
2021 highlighted the challenges healthcare workers face in providing access to essential resources. With the new year rapidly approaching, we're inviting organisations to tackle these problems with a permanent and cost-effective solution:
Antimicrobial Protection
The ongoing COVID-19 pandemic continues to highlight the importance of effective cleaning and hygienic protocol – particularly in the disinfection of commonly-touched 'contact' areas. OvoGard ensures the highest levels of cleanliness around your essential resources with an optional layer of antimicrobial protection, complementing and enhancing any cleaning process.
Enhanced Safety
Virtually indestructible, our protective shields ensure access only to those who are unauthorised, with systems accessible using a secure allen key. Meanwhile, safety is further enhanced with our unique anti-climb and anti-ligature features.
Anti-Stash Design
Essential resources like water cools and sanitiser dispensers are frequent targets for the stashing of unauthorised items, including medication, illegal drugs and weapons. Our shields' anti-stash design supports a zero-tolerance approach on contraband, allowing no opportunity for hiding items.
Anchored Defence
These installations are also frequently damaged by vandalism, heavy use and unauthorised moving and tampering. Fortunately, our protective shields are anchored to the ground, eliminating the risk of your installation being moved and damaged.
Welfare First
Our solutions put the welfare of their users first. When healthcare chooses OvoGard, they can provide essential resources in a way that eliminates the risk of accident or injury caused by sharp edges, loose wiring or faulty equipment.
Patient Dignity
Providing access to clean, safe drinking water is a legal requirement. Our solutions guarantee legal compliance whilst putting the needs, dignity and independence of patients at their core.
Safer Healthcare: How OvoGard Can Help
Need personalised, powerful protection for your essential installations? We've got you covered. Our bespoke design service tailors a protective shield to fit your installation, giving it the powerful layer of defence it needs:
SecuraFlo™
Water coolers are at constant risk of damage and theft. SecuraFlo is the virtually indestructible shield which stops these incidents in their tracks.
SecuraBoil™
Boilers and hot water tap systems can present a significant health and safety risk. SecuraBoil meets this challenge, eliminating the risk of burning incidents.
SecuraSan™
Hand sanitiser dispensers are frequent targets for thieves. SecuraSan protects your dispenser equipment, ensuring free access to all users.
Create a Safer Healthcare Landscape with OvoGard
We're passionate about working with healthcare providers to improve safety and accessibility. To find out more about our protective shields and how they can transform these settings, reach out to us today for a free consultation.